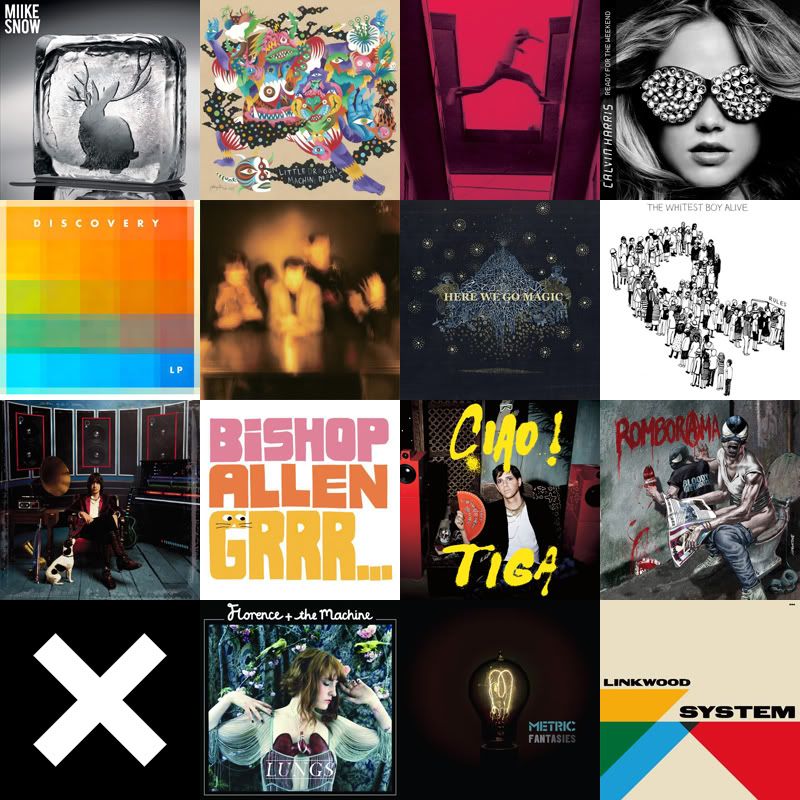 1. Miike Snow - Miike Snow

A very close tie with Little Dragon (who's at #2). "Animal" was like the gateway-drug (song?) for me that led me to the rest of them album. It's some of the best dark pop songs I've ever heard. And hella catchy!


2. Little Dragon - Machine Dreams


I completely skipped the band's first album but was sucked in after hearing "Blinking Pigs" on the radio. This album is the ultimate electronic soul/r&b soundtrack from the future (notice I didn't say for--yes, from!). It's other-wordly, haunting, and beautiful.

3. Mos Def - The Ecstatic


Another artist I didn't follow for the first few LPs, but after hearing "Casa Bey" I had a feeling the rest of the record was going to sound like nothing any other hip-hop artist would release this year. Mos Def is most definitely a renaissance man & great artist.

4. Calvin Harris - Ready For The Weekend


The first single ("I'm Not Alone") and also my first complete listen of the album gave me a disappointed first impression, until I came back to it and soon realized the superstar angle and how fun the music was ("Flashback" & "Ready For The Weekend" are the bomb).


5. Discovery - LP


I don't really care if this record really was a joke because two dudes (from Vampire Weekend and Ra Ra Riot, respectively) were being ironic & funny. Like the pop-sensibilities I liked about Miike Snow and the electronic r&b funk of Little Dragon, this collaboration was doing something different and unexpected from their usual musical fares.

6. The Horrors - Primary Colours


Talk about a 180! This record definitely turned me around after a disappointing debut. Some dislike the new direction but I totally back it. My being partial to 80's UK post-punk & rock probably has a lot to do with that. These guys channel all those bands from the past perfectly.

7. Here We Go Magic - Here We Go Magic


While I do have to admit that I feel like half the record (which is pretty short itself) is more noise/ambience than identifiably structured songs, the "normal songs" that are present are pretty amazing stuff. I just wish more of the album was like "Fangela", but overall it is indeed a magical composition.

8. The Whitest Boy Alive - Rules


Much more polished-sounding than the debut. The band is definitely and sadly too underrated and overlooked by many. Like my feelings with Mos Def's album, this one reflects a side of indie/guitar music that most other artists aren't exploring, or at least doing this good.

9. Julian Casablancas - Phrazes For The Young


Regardless of my bias with The Strokes, you can't say this effort was a disaster, unnecessary, or a complete disappointment. Of all of the solo projects from the band's members, Julian's is hands down the most unique, diverse and bold. It definitely marks a new maturity for Casablancas - personally, artistically and professionally.


10. Bishop Allen - Grrr...


Yet another artist/group I didn't follow early on album-wise (I didn't even realize they were one of those bands that came into people's attention through a TV ad). I have to admit I don't know a whole lot about the band, but I'm easily drawn to the catchier/poppier side of indie rock, and this album does not let down in that dept.

11. Tiga - Ciao! Tiga


It's grittier and rawer than the last album, incorporates tons of old-school influences, and wouldn't be anything without "Mind Dimension". This is the record Tiga should've put out during the electroclash era of music, but not to say that it sounds outdated (it doesn't). James Murphy & Soulwax co-production? Count me in!

12. The Bloody Beetroots - Romborama


If Basement Jaxx is the epitome of mutant house, the Beetroots are the epitome of mutant "electro". It shouldn't even be classified as electro since Bob Rifo blurs the plethora of his influences perfectly. It's like the new Prodigy. Another great artist on this list, if it wasn't for his creativity & dedication to his craft.

13. The xx - xx


When I started following the buzz with this band, I had my doubts. And plus they looked like four average goth kids going to high school. Then I heard the music and understood I was horribly mistaken. Hope these guys are around long enough to keep making more great music.

14. Florence & The Machine - Lungs


When I first heard Florence & The Machine, there was definitely something very familiar. Aside from all the comparisons that are thrown her way, her voice & music are both mesmerizing, and the production on this album is excellent.

15. Metric - Fantasies


Metric has always been a quality indie band, and although I can't get over how much I will always love Old World Underground, this album sounds so meticulously produced that you can tell the band put a lot of work into it. No matter how remixable they are, nor how awesome I think the remixes from this album's singles are, the originals still hold their own. Love that voice too.

16. Linkwood - System
I spent the least amount of time listening to this album vs. everything else on this list, yet from the second "Tears" made fireworks go off in my mind, I had to keep listening. Each song plays like a 12" single from a producer who shows a perfect consistency and continuity when bridging disco/funk/house/electro together, without sounding aimlessly random.

Honorable Mention:


J Dilla - Jay Stay Paid
A more perfect Donuts. Scrapped together by Pete Rock. Who could ask for more! Couldn't ask for more than to see releases like these continue the spirit & artistry of J Dilla. God bless.



The Juan Maclean - The Future Will Come
Don't get me wrong, great album. Definitely more disco/house/new wave influence permeating through than the first record. It's like the 21st century Human League (who I love!).